Trailblazers, the fundraising campaign for the Needham portion of the Bay Colony Rail Trail kicked off its initial, preliminary phase this past week, and in a short time local volunteers and supports have already pitched in over $5,300! This is a wonderful start to the campaign, and a hopeful indication of the broad and generous support we hope to see in Needham.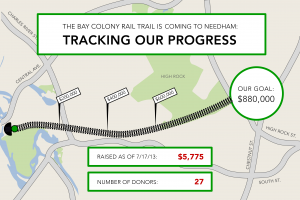 For more on our campaign, check out Trailblazers: Kicking off the Fundraising Campaign.
We have some detail on the expected costs of the trail, much of it derived from the recent Conceptual Planning and Design Study, done by FST here: The Campaign to Fund the Rail Trail in Needham.
And for an update on our progress, check out the post Tracking Our Progress, or click the chart at right for zoomed in view.
And finally, please consider donating to the campaign using the button in the right sidebar.