Friday afternoon at 5:00, on the steps of Town Hall, under the watchful eye of a select group of observers, Selectman John Bulian reached into the large jar of raffle tickets 12 times, and withdrew 10 third prize tickets, 1 second prize ticket and, finally, the first prize ticket.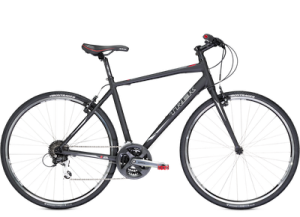 The Trek 7.2 FX bicycle, donated by International Bicycle Center, went to winning ticket #420533, which was held by Megan Kerr of Needham. Congratulations Megan! Second prize, the trainer, went to Jeff Katz. Ten third prizes, BCRT t-shirts, will go to the following folks:
Martin Yapp
Alecia Domer
Russell Cohen
Roland Stern
Cory and Lisa Rhoades
Robert Smyser
Brenda Metzler
Lynne Rachlis
Lisa Bond
Scott Muldoon
In all, the raffle brought in $2,978 for the project. And because it was held during the period of  the grant that matches each personal donation, the raffle effectively delivered $5,956 toward the new trail.
Thanks to all for participating!