Here's a chance to enjoy a meal out, buy a great gift, and support the rail trail at the same time.
Our friends at Fresh City on Needham St. in Newton have made two generous offers to Bay Colony Rail Trail supporters:
Thinking Fresh Gift Card Sales: Buy gift cards at Fresh City Newton and 20% of the gift card purchase will go to the Bay Colony Rail Trail. You can buy a gift card from Shawn Lander, General Manager, on Mondays, Tuesdays and Wednesdays from 1-9 and Saturdays from 11-9. Bring the attached coupon with you, so Fresh City will have a paper trail of the number of people participating in this promotion.
Fresh City Newton Event on Monday, January 27: Bring the coupon to Fresh City Newton on Monday, January 27, and 15% of the sales from people using the coupon will go to the Bay Colony Rail Trail. The promotion applies to dine-in and take-out.
Please note the promotions are at the Fresh City Newton Location:
241 Needham Street, Marshall's Plaza, Newton, MA 02464
You can print out extra copies for your friends or just forward this email along to them.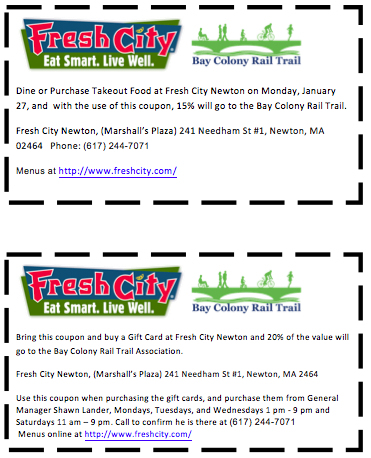 The bottom line: The more folks that visit Fresh City in Newton, the more they'll contribute to the rail trail.